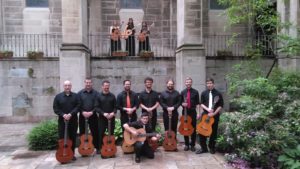 The Pittsburgh Classical Guitar Society's guitar orchestra is a great musical experience. Open to players of all levels and ages, the orchestra performs twice a year: one concert in the spring and once concert in the fall.
Rehearsals are held at Hope Academy–inside East Liberty Presbyterian Church–every other Tuesday from 7:30 pm until 9:00 pm.
Rehearsal Space:
East Liberty Presbyterian Church
116 S. Highland Avenue
Pittsburgh, PA 15206
If you're interested in joining, or even attending a rehearsal to check it out, contact the orchestra's director, Gil Teixeira, at giolte@gmail.com or (412) 330-0414.