Guest Recital: Devin Sherman, Guitar
On Wednesday, February 7, 2018 at 7:30pm, Devin Sherman will be giving a solo recital at Carnegie Mellon University School of Music.
Cost: free and open to the public.
The program will include works by Reza Vali, Tania Leon, Das Fujikura, Qin Ding, Michael Fiday, John Fitz-Rogers, and a world-premiere of "Micro-Sonata" by Pittsburgh Composer Aaron Myers-Brooks. You don't want to miss this!
ABOUT DEVIN:
Devin Sherman is a guitarist and teacher. He lives in Pittsburgh where he performs solo and chamber music with a cast of unique and talented musicians including the ensembles NAT 28, Eclectic Laboratory Chamber Orchestra, and Alia Musica. In addition to performing contemporary chamber music, Devin performs with flutist Sarah Steranka and the Riversong String Ensemble. Devin also makes up one-half of Duo Cortado, a guitar duo that has commissioned and premiered a number of new works. As a soloist, Devin connects audiences with contemporary guitar music that they are unlikely to hear anywhere else. Programs include lesser known works by well-known composers, new music by emerging composers, structured improvisations, and established works from the contemporary repertoire.
He studied guitar with Matthew Slotkin (Mansfield University), and Christopher Berg (University of South Carolina). While at the University of South Carolina, he performed for numerous University events including the award-winning Southern Exposure new music series, USC Wind Ensemble, Collaborations in Contemporary Art (Cica), and the New Voices series.
When:  Wednesday, February 7 at 7:30 PM – 9:30 PM
Where: Mellon Institue Auditorium
PCGS Open Stage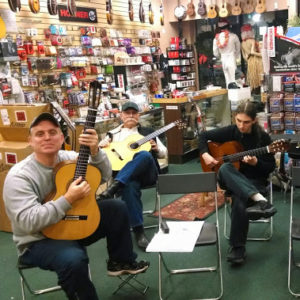 Join us for our first open stage of 2018 on Saturday, February 10th at 7:00pm at Lyons Guitar & String Lesson Studio. This event is open to all ages and all levels of musicianship! Perform what you've been working on and practicing, and connect with guitarists in the Pittsburgh area!
When: Saturday February 10th at 7:00pm
Where: 1665 Washington Road Suite #5 Pittsburgh, PA 15228